Memphis schools discover significant energy savings and earn big rewards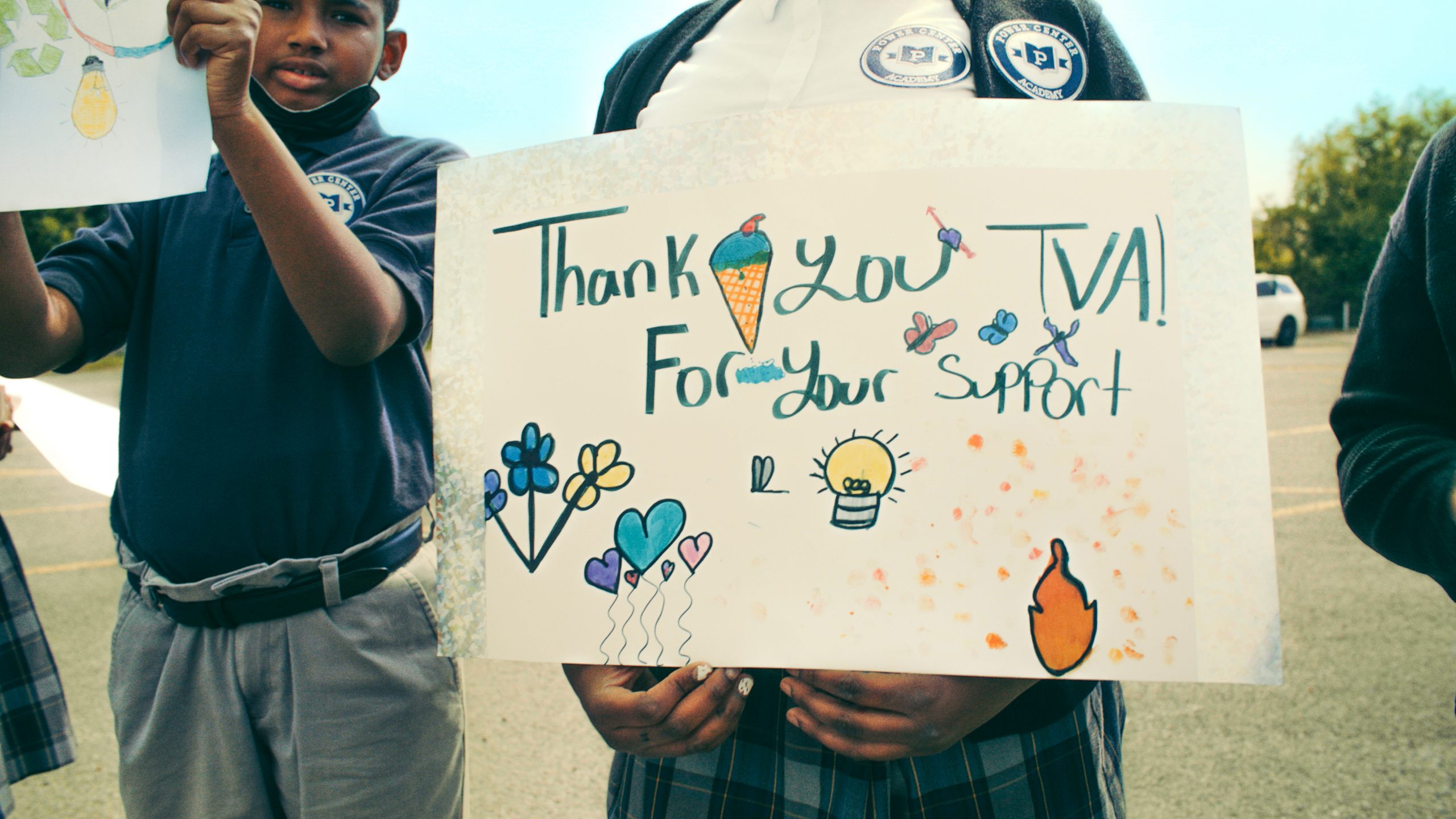 It had all the makings of a school pep rally gearing up to cheer their team to victory. A DJ blasted music through speakers while taking to the mic to excite the crowd of teachers, students and city leaders in the school parking lot. The music occasionally faded to let the elementary and high school cheerleaders enthusiastically shout about pride and spirit. Other kids proudly waved bright blue pom-poms, but their homemade signs were the one indication that this was not a traditional pep rally. The posters did not display messages supporting the team. Instead, it was a simple "thank you" to their local power company Memphis Light, Gas and Water (MLGW) and TVA EnergyRight®. Then the cheerleaders made a big reveal — the schools had been awarded $500,000 in grant money, and the crowd erupted in cheers.
"It takes a lot to win a grant," says Cindy Herron, vice president of EnergyRight. "A grant is not a given to the schools. The students and teachers must compete for the grants against other [DS1] schools. They have to look for ways to save energy, and we look at how they engage the schools and the community. Being with Power Center Academy today and seeing their hard work pay off is amazing."
The road to get to this day for Power Center Academy's elementary and high school started 12 months ago when representatives from EnergyRight and MLGW approached Yetta Lewis about joining the School Uplift program. After hearing about the success of the first cohort and how much money the schools saved, the co-founder and CEO of Gestalt Community Schools in Memphis, Tennessee, did not hesitate to say yes.
"The elementary is a former Kroger grocery store," says Lewis. "Our high school used to be Southwest Community College. It's wide-open spaces with high ceilings and just a beast to warm and cool. It's very expensive."
School Uplift supports schools in the region by reducing energy costs and improving the quality of the learning environment. Participating schools receive behavior-based strategic energy management (SEM) training while promoting engagement from faculty and students with easy, actionable energy saving tips and energy efficiency practices.
"We assign energy coaches to the school, and from there, they create energy teams that involve the students and school administrators," says Kevin Wren, operations manager for EnergyRight.
Wren says the coaches met monthly to make sure things such as their HVAC systems were running at peak performance and were being cleaned regularly. He says changing behaviors was also another key component.
"In addition to the coaching, we got great educational materials that we could use in the classroom to remind students to turn off computers and lights," says Lewis. "Our teachers didn't have to recreate the wheel. There were resources right there with TVA and MLGW, and we want to continue using those resources throughout the year."
Collaboration with MLGW was also crucial to each school's success. "We were happy to help them save energy and utilize resources in other areas that make the school great," says Natasha Rosko, commercial marketing representative for MLGW. "It's just not about MLGW servicing them. We want to find ways to help all of our customers save energy and money."
Power Center Academy's successful participation earned them a $100,000 grant for the elementary school and a $400,000 grant for the high school. The money was in partnership EnergyRight, MLGW and Tennessee's Energy Efficient Schools Initiative (EESI).
"TVA's mission is to serve the people of the Valley and to make life better," says Herron. "Schools are the heartbeat of the communities. It's also about our future generation, so it just made sense to focus on what we could do in the schools to help them save energy."
Power Center Academy students will help decide how the grant money is spent. Lewis says they are looking at building an outdoor classroom, upgrading their air filtration system and switching to LED lights.
"Schools are making hard decisions on whether to do more extra-curriculum activities or pay the light bill," says Lewis. "We feel fortunate to have these savings that will be re-invested back into our students."
TVA EnergyRight is currently accepting applications for the next School Uplift.
Related stories:
Alvin C. York Institute makes the grade, saving over $40,000 in TVA EnergyRight School Uplift pilot program
Bledsoe County Schools transform their energy training into cool savings
Tennessee teachers and students can 'sense' the health benefits of an energy efficient school