TVA EnergyRight cooks up energy savings for Alabama restaurant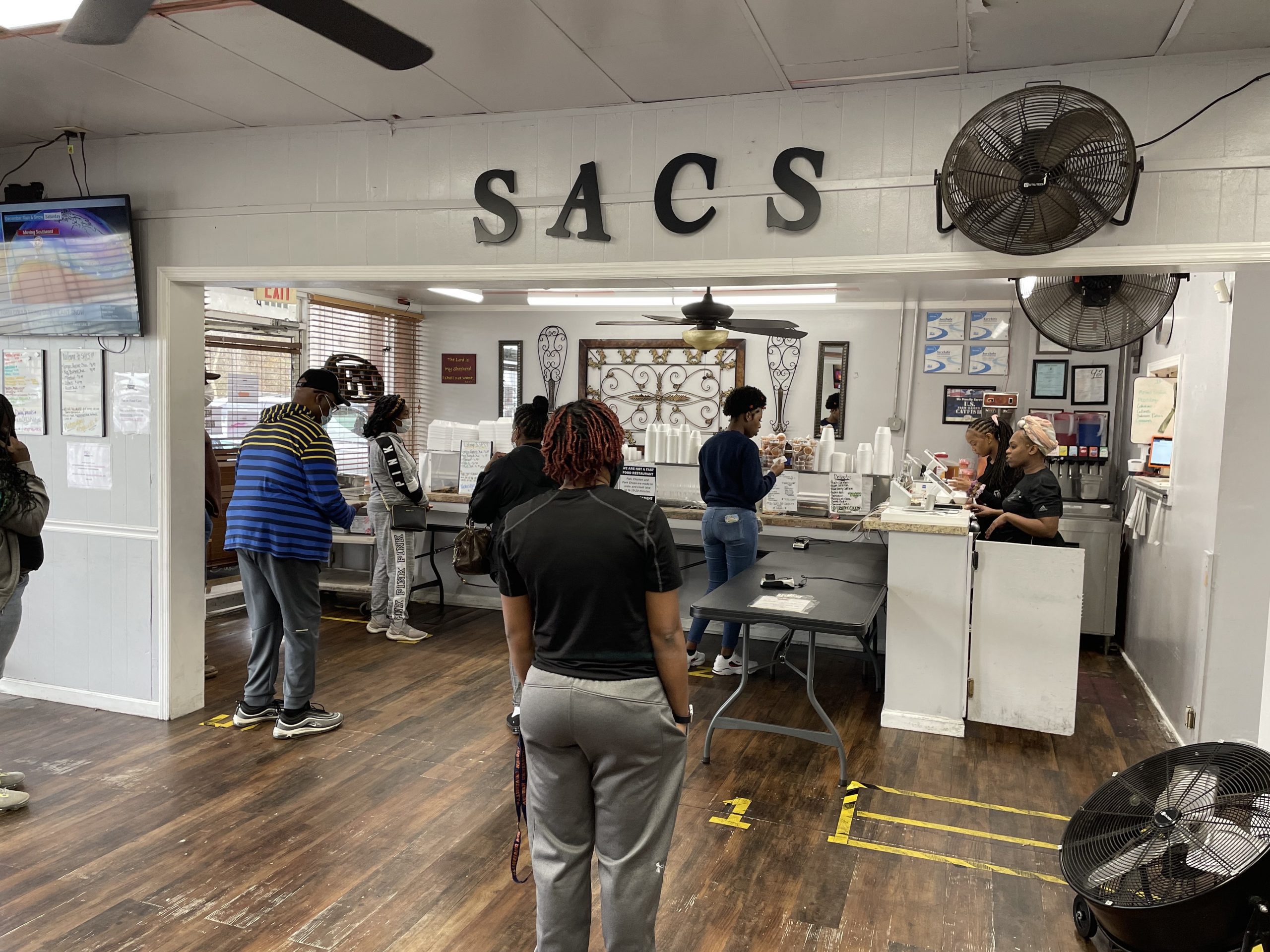 This blog was updated on August 9, 2023 to reflect the program's new name: Small Business Uplift.
In collaboration with local power companies and community partners, Small Business Uplift (formerly known as Community Centered Growth) from TVA EnergyRight® helps business owners with free energy-related upgrades and resources.
Standing in a line 20 people long for lunch on an empty stomach requires a certain grit, especially when each hungry patron can smell today's special wafting past them in to-go containers. Once inside, the mouth waters as the eyes dance across the food buffet — chicken and dumplings, fried catfish, green beans and sweet potatoes. It's a gift for the senses, all cooked up by Sarah Douglas.
"I think when people eat, it makes them happy," says Douglas with a smile.
If there is a "happiness expert" job, Douglas is a prime candidate. But for now, she finds joy as the co-owner of Sac's Kitchen in Huntsville, Alabama, with her son, Carlos Burwell.
When it comes to her food, Douglas doesn't cut corners.
"All my food is fresh," says Douglas emphatically. "All my greens are fresh, nothing bad, nothing canned, nothing frozen. Our motto is 'Not from can, all from hand.'"
If you grew up in North Huntsville in the 1980s and '90s, chances are you ate at Douglas' house or know someone who stopped by hoping she had made her creamy mac-n-cheese.
"I always had friends want to come over just to eat," recalls Burwell. "I would try to play tricks on my mom and act like I want something I think she can't cook. She can come up with stuff, put it together and make it work. She's a great cook."
About a decade ago, Burwell asked his mom if she wanted to use her talents in a bigger kitchen. He had found a small place for sale on Mastin Lake Road. "We threw our hat in the ring," recalls Douglas. "About six other people wanted the same restaurant. The owner of the building told my son somebody had to give him a start, so he gave us our first opportunity."
Even though the building had previously been a restaurant, Douglas said, it didn't come with many appliances. "We didn't have the big machinery to cut and slice the food, so I had to do that by hand."
Settling on a name for the place was a lot easier. Sarah's nickname growing up was Sack, but she doesn't know how she received that moniker. "So when we opened the restaurant and Carlos said, 'Why don't we name it Sack's, after you?' I said, 'Nah, we'll drop the K, we'll name it Sac's after both of us. Sarah and Carlos.'"
Like with any new business, the first couple of years for Sac's Kitchen was tough. They didn't have any money to advertise, so they relied on word of mouth, hoping people would find them.
"The restaurant is somewhat isolated, and the neighborhood is underserved with businesses," says Joe Gehrdes, Huntsville Utilities director of community relations. He grew up in Huntsville and has seen the evolution of the northside. "North Huntsville needs help, but it is on the rebound."
The food coming from the kitchen didn't go unnoticed for too long as word spread beyond the 35810 ZIP code. "Some celebrities have stopped by, and folks from out of town tell us they made a special stop because they heard about Sac's," says Burwell. "But it's this community that really rallied around us in the beginning."
The restaurant eventually expanded, taking over the empty businesses next to it. Douglas says all their success doesn't necessarily translate to a considerable income. "We're definitely not rolling in money. The utilities keep getting higher. The cost of food and the food containers keeps getting higher. Then your equipment breaks down every other day."
For years, Sac's Kitchen got by using two residential stoves that didn't last very long. "We went through at least eight kitchen stoves because we couldn't afford to buy the commercial stoves," says Douglas. "They're not meant for cooking the big pots and pans. We'd run those stoves from the time we got here, so basically from seven to seven."
Gehrdes credits TVA EnergyRight for recognizing that small businesses need a program to help them save on their utility bills. "They struggle just like residential customers do from month to month paying their bills, and TVA EnergyRight came to the table wanting to help."
When Douglas learned Sac's Kitchen qualified for TVA EnergyRight's Small Business Uplift program she said she fell to her knees. "Thank God, somebody is helping us. It's amazing."
"Small Business Uplift is a program that focuses on small businesses within underserved communities," says Carolyn Greer, EnergyRight senior program manager. "It was created to focus on those folks and really help people save money. We don't want electricity to be a factor in making the hard decision of whether to stay open or not."
Greer says the biggest energy users in restaurants are often refrigeration and cooking equipment. "Small Business Uplift uses grants to invigorate small businesses with energy efficient upgrades and access to energy resources."
The project not only gave Douglas and Burwell the opportunity to install a commercial-grade stove, but they also received an energy efficient commercial-grade ice machine and air conditioning units near the food buffet.
"It feels like Hell's Kitchen in the summertime. It's hot outside, it's hot near the food bar, and there is heat coming from the kitchen," says Burwell.
Douglas says EnergyRight contractors worked around the restaurant's schedule, so they didn't have to close a single day. They also installed new interior LED lights, and Douglas has noticed how much it's brightened up the place. She's also happy to finally have lights outside the building.
The future for Sac's Kitchen looks bright. Douglas says she has a few years left in her before she's ready to hang up her apron. In the meantime, her granddaughter, Burwell's youngest child, Little Sarah, shows interest in learning the ropes of the restaurant and often brings her homemade baked goods to sell to customers.
"What I love about this place is the independence and the room to grow and create something for my grandchildren," Douglas says. "Sac's Kitchen will hopefully be in my family long after I'm gone, and that's the best part about it. I've worked since I was 15 years old. I opened this restaurant when I was 53, and now I'm 62. It's a blessing, a lifelong dream."
Related articles:TVA EnergyRight's Small Business Uplift helps the heart of Sheffield find its rhythm