Efficiency Hunters: DIY Gets It Done — Energy Savings Swaps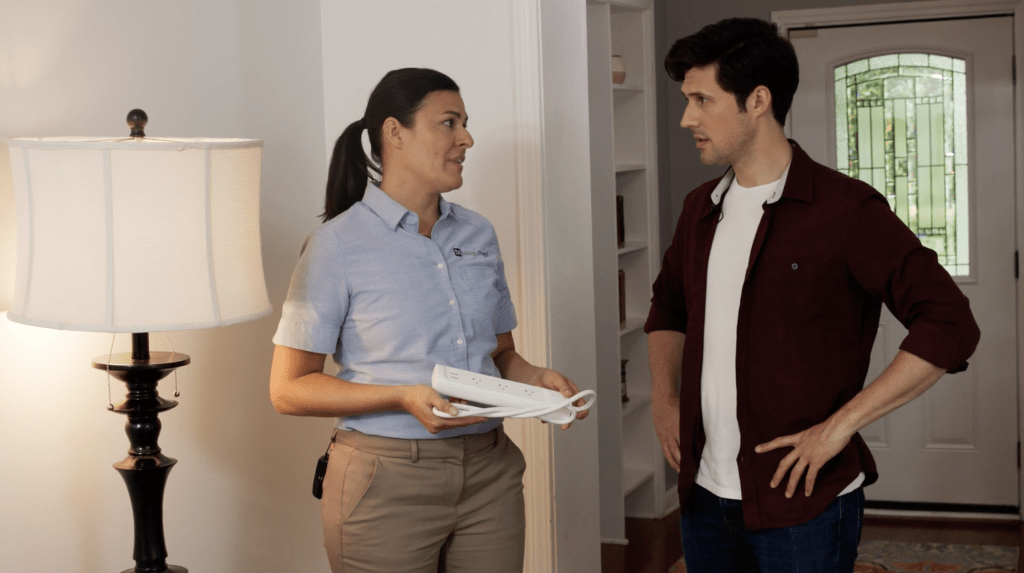 3 home energy swaps that could save you up to $1,000 on energy bills
Ready to save? In this video and article, you'll learn:
How you can save around $1,000 on your energy bills

Why ENERGY STAR® certification matters

Where to find energy efficient products and appliances for your home
Fun fact: There's money hiding all around your home. Where exactly, you ask? Well, it's in your walls, your attic, your duct work, even in your appliances and more. We're talking about home energy improvements, of course. It's easy to forget about all the big and small ways you could be saving money and using less energy at home, but that's where Efficiency Hunters comes in. In each episode, TVA-certified Home Energy Advisors show homeowners like you how they can start to save energy and money. 
Now, about that hidden home energy treasure . . . let's dive into the energy swaps our advisors say could save you up to $1,000 a year on energy costs! And don't miss the full episode just above.
1. Replace old appliances with ENERGY STAR models.
If you've ever owned an old car, then you know this predicament firsthand — it's the one where you're taking your vehicle to the shop every other week, pouring money into it because you're not ready or able to commit to a newer model. Home appliances, on a smaller scale, are like the vehicle that's costing you more to keep running than to replace. 
Take a refrigerator, for instance. Its average life span is about 12 years. After that, you're headed into old car territory. It's functioning, but it's definitely not saving you money anymore. When you swap out your old fridge for a new ENERGY STAR certified model, you could see up to $260 a year in savings!  
Why ENERGY STAR? Whether it's a refrigerator, dishwasher, washing machine or some other major home appliance, every ENERGY STAR certified product has been independently reviewed to ensure its efficiency performance and savings. Always look for the blue ENERGY STAR logo when you're shopping. And use the yellow Energy Guide label to review the appliance's energy use and operating costs. 
Check out these ENERGY STAR appliance swaps that can save you money.
| | | |
| --- | --- | --- |
| Appliance | Average cost to replace | Average savings |
| Dishwasher | $300 – $3,000+ | $130/year |
| Dryer | $500 – $1,500+ | $200 over product's lifetime |
| Refrigerator | $500 – $3,000+ | $260/year |
| Washing machine | $500 – $1,500+ | $370 over product's lifetime |

2. Smarten up your thermostat.
Heating and cooling your home accounts for 30% of your total electricity use. So, this next swap can save you money and may just settle the longest-running family feud of the modern era: head of household vs. everyone else to control the thermostat. Rather than duke it out every season, switch to a smart thermostat instead. When you do, you could save up to $140 a year!
A smart thermostat controls your home's temperature through an app. You can schedule when you want your heat or AC to kick on or off, adjust the temperature of your home remotely or take advantage of preset energy-saving modes. Have a hot sleeper in the house? Your smart thermostat can learn the temperature routines of your home and automatically adjust to a cooler temp at night. Are you freezing when you wake up in the morning thanks to your hot sleeper? Schedule the AC to shut off or run at a higher temperature a couple of hours before you wake up.
Running $50-$300, a smart thermostat is a relatively low-cost swap that can help you start saving energy immediately. The best part? It can be installed in 20-30 minutes!
3. Lighten up with LED lightbulbs.
There's no better time to swap out the incandescent lightbulbs in your home for LED bulbs. Each incandescent lightbulb you replace with an LED can save you up to $15 a year on your electricity bill. Let's say you have 40 lightbulbs in your home and you switch them all to LED bulbs. At $15 in savings per bulb, you could be looking at $600 a year in savings! Since LEDs use 75% less energy than incandescents, that means they'll last 25 times longer. So, you're saving even more money by replacing your bulbs far less frequently.
Plus, LED bulbs are more affordable than ever. You can pick up a four-pack for about $5. Pick a room, grab a step stool and start swapping! And if you want to take the energy savings to the next level, grab a smart power strip too. All you have to do is plug your electronics into one and the power strip will prevent those devices from continuing to use energy when they're not in use, even if they're turned off.
Your next step: Shop for swaps.
Now that you know a few more things you can do around your home to save energy and lower your energy bill, where do you shop for all these energy-saving swaps? It's time to head to the EnergyRight Marketplace. It's your one-stop shop for ratings and reviews, price comparisons and financing options on energy efficient products, like appliances, electronics, smart home technologies and more. So, whether you're looking for a new ENERGY STAR certified refrigerator or just want to check out LED bulb options, head to the EnergyRight Marketplace to find products you can trust to help you save more energy at home.