Types of EVs and the EV alphabet: What's a BEV, PHEV and HEV?
Your guide to the different types of electric vehicles (EVs)
We get it. The EV alphabet, and the EV world in general, can feel a little overwhelming. That's why TVA EnergyRight decided to launch a series of informative articles about electric vehicles. We're kicking things off with a quick post about the different types of EVs available to drivers in the region.
Welcome to the EV world
In 2020, TVA began working with a broad coalition of partners to increase the use of EVs in the region and to pave the way for more than 200,000 EVs on the region's roads by 2028.
Why is TVA paving the way for EV adoption? We're doing this because making the switch to EVs could save the region's drivers millions in gasoline and maintenance costs, and dramatically reduce carbon emissions across the region. Electric cars can also fuel investment in local jobs and keep refueling dollars — from locally produced electricity — in our communities. On top of all that, the Tennessee Valley region is already one of the top EV manufacturing hubs in the country, with plenty of room to grow.
We also know that big changes — like purchasing a vehicle that runs on electricity instead of gasoline — can lead to big questions. And that's why we're doing our best to provide unbiased answers to your pressing EV questions.
Each of our posts will include links to trusted external sources like automotive magazines, thought leaders, research-backed studies, government agencies and more. Feel free to click around and be sure to check out our video series, In Charge: Life With an Electric Vehicle.
Read on to learn more about the high-level pros and cons of the different types of electric vehicles on the market today.

What's the definition of an electric car?
A modern electric car is a passenger vehicle that uses an electric motor to drive propulsion. This broad definition includes different powertrains and vehicles like the Toyota Prius and the Ford Maverick hybrid pickup truck, the Kia Sorento plug-in hybrid, and the 2024 Corvette E-Ray.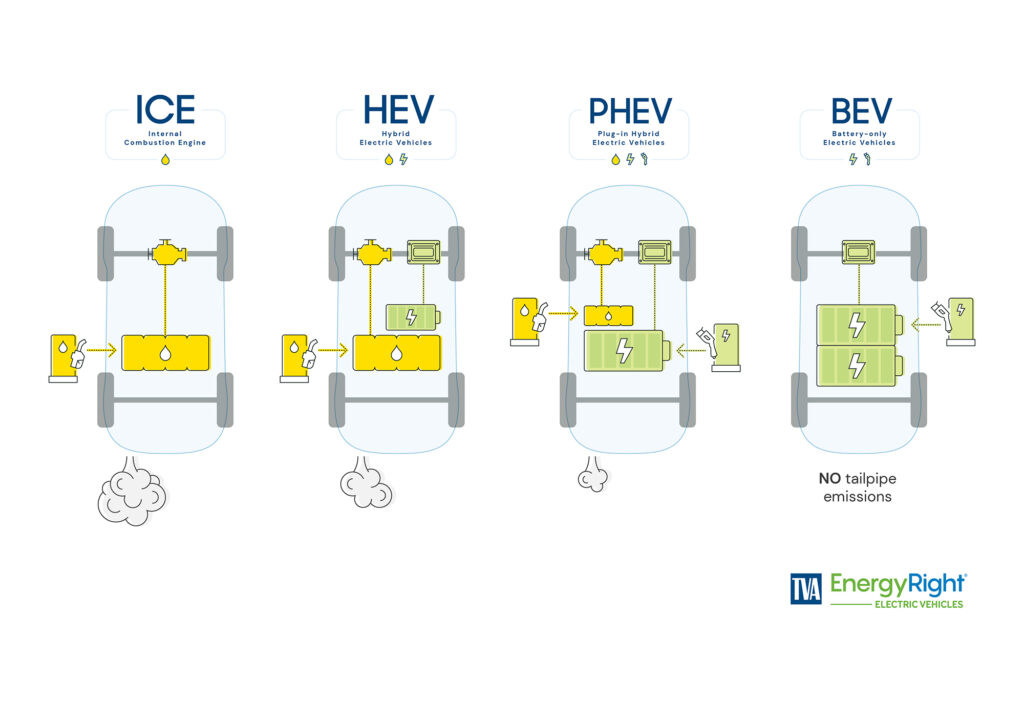 Battery-only electric vehicles: BEVs (A.K.A. EVs)
Also known as "pure," "full" or "all-electric" cars — or, more commonly, if not a little confusingly, EVs. A battery-only EV uses only electric power for propulsion. This means BEVs have the potential to be insanely quick off the line.
Pros:
Zero tailpipe emissions.
Less maintenance.
Better performance and power delivery.
Quicker "off-the-line" 0-60 speeds.
More efficient than gas-powered cars.
Uses locally produced electricity.
At-home charging convenience.
Select models can power your home during outages.
Federal tax credits may be available.
Cons:
People are generally less familiar with owning and driving an EV.
Longer trips require planning for refueling stops at public charging stations.
Battery performance is expected to fade after approximate 12-15 years of service life.
Plug-in hybrid electric vehicles: PHEVs
Think of a PHEV as the middle ground between an all-electric and a conventional hybrid. (We'll cover hybrids in the next section.) Like all EVs, PHEVs use a rechargeable battery, electric propulsion and regenerative braking to improve fuel efficiency, reduce total tailpipe emissions and minimize wear and tear on brakes. Unlike battery-only EVs, however, PHEVs also rely on a gas-powered internal combustion engine (ICE) for propulsion.

Pros:
Generally more fuel-efficient than a regular hybrid.
Capable of long-distance gas-powered driving.
At-home charging convenience.
Federal tax credits may be available.
Cons:
Maintenance is the same as a gas-powered car.
Smaller batteries mean shorter all-electric driving ranges.
Burns fossil fuels.
Produces tailpipe emissions.
Hybrid electric vehicles: HEVs
Also known as "conventional," "self-charging" or "mild" hybrids, these EVs use gas-fueled engines and electricity-fueled motors. Hybrid vehicles — like the Toyota Prius — are very similar to PHEVs, with one critical difference: You don't plug it in to refuel with a charge.
Pros:
Better fuel economy than most gasoline-powered vehicles.
No changes to your driving habits or lifestyle.
Cons:
Maintenance is the same as a gas-powered car.
Burns fossil fuels.
Smaller batteries limit electric-only range.
Lacks at-home refueling/charging convenience.
Less efficient than all-electric vehicles.
Fuel cell electric vehicles: FCEVs
These cutting-edge vehicles aren't available in our region yet, but they're worth mentioning because FCEVs generate their own electricity!
Like a BEV, FCEVs are propelled entirely by electricity; however, instead of plugging in to recharge the battery, hydrogen gas from the vehicle's fuel tank combines with oxygen to generate electricity. Best of all? Water and heat are the only byproducts.
Pros:
All the benefits of a BEV.
Smaller, lighter batteries with longer driving ranges.
Hydrogen is abundant in the universe.
Hydrogen can be derived from 100% domestic sources.
Cons:
Least common type of EV.
Very limited availability (primarily in California) from select automakers.
Most expensive electric vehicle option.
Added cost for hydrogen fuel cell maintenance.
Lack of hydrogen fueling stations in the U.S.
Hydrogen separation process can be energy-intensive.

Go ahead, explore your BEV, PHEV and HEV options today!
Now that you're in the know, check out our online EV comparison tools and find out if there's an EV that's right for you.
---
This site's content (including, without limitation, references and links to third-party information) is based on information provided at the time of publishing, and TVA makes no warranty therein.