More residents can find affordable housing in Oxford, thanks to a partnership with the city, builder, local power company and TVA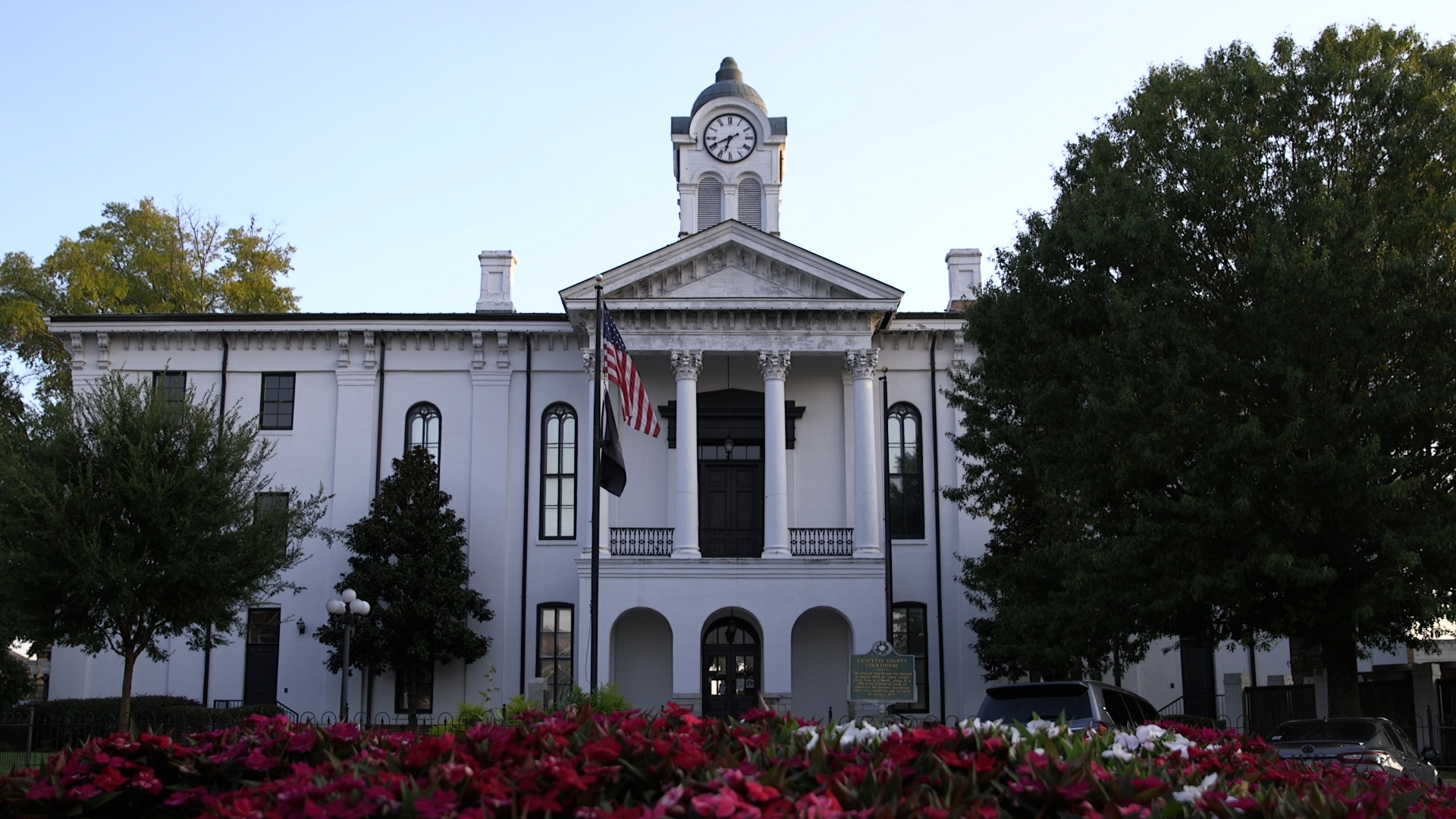 The autumn sun rises on a quiet morning in historic Oxford square. Known locally as simply "The Square," in a matter of hours, this entertainment epicenter will come alive in this small Mississippi town.
The Lafayette County Courthouse, a white, Greek Revival-style building on the National Register of Historic Places, sits at the center of The Square. It is surrounded by modern-day boutiques, restaurants, world-renowned independent bookstores and art galleries.
The dichotomy could be striking, or a representation of what Oxford truly is – a football town with a thriving arts community, the largest university in Mississippi in an area with a large population of retirees, folks buying a second summer home while others struggle to make rent.
Oxford's Southern charm doesn't make it immune to a common problem — rising housing prices brought on by an influx of people, mostly students and retirees, wanting a small-town college experience or a relaxed lifestyle post-career. But as new renters and homeowners moved in over the last decade, many of Oxford's low-income residents were pushed outside the city limits.
"Oxford is an expensive place to live," says Pam Brown, a resident assistant at North Mississippi Regional Center. "Because of the students, they charge rent by the room. If you pay $500, $600 to $700 a room, that's $1000 to $1400 dollars a month." The students Brown is referring to are the nearly 24,000 University of Mississippi students, nearly 75% of whom live off campus.
While affordable housing issues can have myriad causes, Oxford can actually point to one very famous Ole Miss grad whose talents and popularity accidentally fueled housing crisis: Eli Manning.
"Oxford has been a victim of its own success"
If "The Square" is the center of Oxford, The Grove is the heart of Ole Miss' campus. The large oak, elm and magnolia trees in The Grove are lush, providing shade to students heading to class. But during football season, it's the place to be for Landshark tailgating.
The New York Times described its allure as "every kind of party you can describe, at once: cocktail party, dinner party, tailgate picnic party, fraternity and sorority rush, family reunion, political handgrab, gala and networking party-hearty — what might have inspired Willie Morris, one of Mississippi's favorite sons, to declare Mississippi not a state, but a club."
Oxford nearly doubles in size, to around 50,000, from the time students start their first semester until their final exam. A college football home game pushes the population of Oxford to nearly 200,000. University of Mississippi, often referred to as Ole Miss, plays in one of the toughest conferences in college sports.
"Eli Manning came to the university 18 years ago and all of a sudden there was a resurgence to the old days when his father, Archie Manning, played here," says TVA employee David Sparks, who has lived in Oxford for several years. "He was the greatest Ole Miss quarterback of all time."
Eli would step out of his father's shadow to set 47 school records.
"More fans wanted to buy tickets. That resulted in the stadium being expanded, which meant more people buying second homes and more businesses opening," says Sparks.
"The thought is, if our biggest complaint is growth, then we should not complain, as many towns would give their right arm to have the same things that we consider as problems," says current mayor Robyn Tannehill. She says in the last decade, Oxford has grown 23%. "But we also have had challenges along the way."
"You can easily tell whether the Ole Miss football team won or lost that year, based on home values," says housing developer Stewart Rutledge. Four years of a winning season sent home prices soaring in the early 2000s, impacting people outside the bright lights of Vaught Hemingway stadium for the next two decades.
"We have an amazing community of writers, artists and musicians from around the world," says Tannehill. Unfortunately, we are at the point that if you don't have a low rent district, you don't have an artists' district. Oxford has been a victim of its own success in a whole lot of ways."
While the wins tapered off with Manning's departure, the spotlight never really left Oxford, as it often found itself on many "best small towns" lists.
But for folks like Martel McEwen, winning seasons and best-of lists mattered very little.
"There are two different Oxfords," says McEwen, who is currently looking for employment. He grew up in the city all his life and watched the divide between the haves and have-nots grow deeper.
"I have worked many jobs and I found myself working to just be broke."
"I thought that I would never develop in Oxford"
Tannehill followed a playbook like many in this town – come to Ole Miss for the education, stay in Oxford for the small-town hospitality and affordability. It's the reason it's called a "velvet ditch" – a comfortable place that's hard to leave. After college and marriage, Tannehill was a small business owner active in her community. But she also saw that many people were being priced out of Oxford. Artists, waiters, bartenders and barbers could no longer afford to live in the community where they worked. She became an alderman then ran for mayor three years ago with affordable housing a cornerstone of her campaign.
"We are a tourism community," says Mayor Tannehill. "Most of the jobs in the hospitality industry are not high paying, so affordable housing becomes a huge issue for us. People invest their heart and soul into this community to make it what it is. We want them to be able to afford to live here as well."
Ole Miss, the largest employer in Oxford, saw many of their 3000 employees struggle as well. "People want to be part of the communities within which they work," says Dr. Noel Wilkin, Provost & Executive Vice Chancellor for Academic Affairs. "That's even more important for an academic institution where we have a community of scholars. The university itself is almost like a little city that operates 24 hours a day. We want people to feel the connection, not only to the institution as an employer, but to the community overall." Wilkin says everyone from educators to janitors struggle to find affordable housing within Oxford, keeping them from fully being involved in the community.
Tannehill reached out to housing developers like Stewart Rutledge who candidly told her that red tape kept developers from building affordable housing in Oxford.
"I thought that I would never develop in Oxford because for the last at least 10 years, land in Oxford has been exorbitantly expensive," says Rutledge, owner of Rosedale Corporation. He said the environment started to change five years ago when Mississippi's Housing Finance Agency changed the funding mechanisms to make purchasing higher price land financially feasible with moderately restricted rents. He also says Mayor Tannehill helped clear any final hurdles.
TVA EnergyRight's New Homes Program also helped. Offered in partnership with Oxford Utilities, it drives investment in the communities TVA and Oxford Utilities serve by providing incentives for new construction including affordable housing.
"The New Homes program not only gives opportunities for builders and developers, but it can help lower that cost for a family to have a new home. And typically, a new home is the largest single investment a family makes," says Sparks.
To qualify for incentives, developers must build all electric, energy-saving homes.
"We don't want our customers' bills to be so high that they can't afford to pay their bill," says Oxford Utilities manager Rob Neely. "So, we would like for the customer to have the energy they want and need and that they can afford. In turn, they can take those savings and make investments, spend money in the community."
"When we first heard about EnerygRight's incentives, we thought it was too good to be true, but they do care beyond just running power through the poles," says Rutledge. "They have partnered with us to make sure our affordable homes have the best chance at surviving because when you're doing workforce and affordable housing, you need all the help you can get." Rutledge chose to put the incentives he received from EnergyRight back into maintenance and upkeep of the housing.
Tannehill realizes affordable housing will remain an issue in Oxford long after she leaves office. She's developed a Vision 2037 plan to hopefully keep Oxford moving in the right direction. "It is the plan that helps us rethink all of our land use, all of our development issues and housing issues. We constantly ask ourselves, 'What are the things that we treasure most about Oxford? How do we protect those things as we encourage growth?'"
Ole Miss faculty members sit on a housing committee to find innovative solutions, like the conversion of transitional faculty housing into affordable housing. "We worked with the city to find a piece of property, relocated all of those houses into the city, and make them available at affordable rates," says Wilkin.
"Stewart Rutledge, Mayor Tannehill and TVA EnergyRight have done such a great job of bringing this home to Mississippi to have affordable energy and affordable housing in Oxford," says U.S. Representative Trent Kelly.
Rutledge has already built two affordable housing properties – Belle Rivers and Eastover, where McEwin and Brown now live. The homes in the communities feature three bedrooms and 2.5 baths, walk-in closets, washer and dryer, carpet and laminate vinyl flooring. There are also clubhouses and playgrounds.
McEwin recently celebrated his 30th birthday in his new home. It's a far cry, he says, from the days living in his car and taking bird baths.
"I've never been prouder of myself than right now. I have this old saying that I've always stuck with since I was seven. If tomorrow is going to be just like yesterday, then that means today wasn't about a thing."
When she comes home from her shift, Brown can hear the wind chimes and tends to her growing flower bed and sees a future that she didn't believe could happen.
"I really love my home. I now have something that I can leave my daughter." Her daughter Precious is attending Mississippi State and comes home on weekends. The mother and daughter lived for nearly two decades in Riverside, a community of subsidized low-rent apartments. Brown says it never truly felt like home.
"My daughter says, 'I've never lived anywhere we have a back door.' I said, 'Well, now we've got a back door and a two car garage,'" Brown says with a smile.