Hydroponic garden growing a reliable food source for Huntsville families in need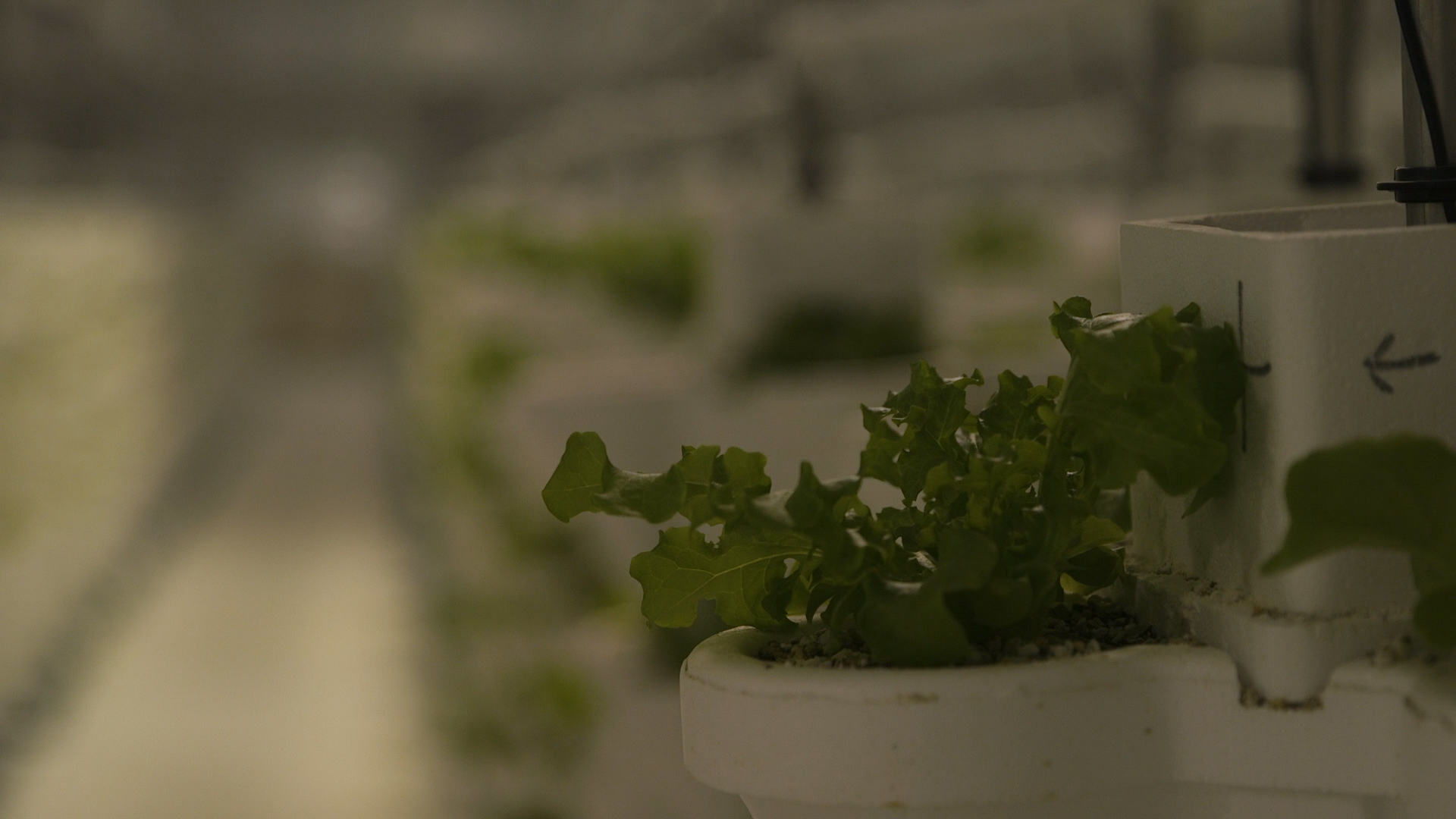 The engineer with a PhD who lost a job contract and health insurance.

A single parent who didn't pay December's rent to buy Christmas gifts for the kids.

A young man who lost his partner in a car accident.

An elderly woman fighting breast cancer.

A family living out of their car.

These faces, these people, their lives all wait in the same line. Waiting for the doors of Manna House to open.

Manna House
Thick gray clouds threatening to produce an imminent downpour hover over Manna House. The name harkens back to the non-profit's inception at a dining room table. Nearly two decades later, it's at capacity in a tan metal warehouse with a hunter green roof. The weather likely kept many away today, though the line takes up the entire length of the building and a volunteer is still needed to manage traffic. Sometimes it can take a recipient two hours to get through the line.

The person in charge never stays in one place for long. She leads a prayer with a group of volunteers from a local church then shows them what food supplies need to be loaded in the back of a van. Before she has a moment to think, she helps a homeless man who's just walked through the loading dock looking for toiletries. Then she's off making arounds to each food station to see if volunteers are prepped and ready to serve. The doors are about to open. She has to be ready. It's the end of the month.

"We'll probably have 600 to 700 families tonight. And that's because they've used up their money and any possible assistance. They're just out of money," says Manna House Director Fran Fluhler.

No one asks the recipients how much they make or how dire their need is. Fluhler says if someone stands for hours in line, they need help.

Manna House started nearly 16 years ago after a company laid off 1500 people in the Huntsville, Alabama area. Folks like Fluhler felt the call to help.

"God put me in the right place at the right time with the right people," recalls Fluhler.

She and her friends wanted to make sure the unemployed workers could still put food on their tables. Fluhler soon realized the need in her community extended beyond the laid off workers. People living paycheck to paycheck were also struggling to feed their families.

"I can't imagine being a mom and putting my kids to bed with only water because I couldn't feed them. They don't qualify for food stamps, they can't get additional help because they make just a little too much to qualify. We have got to do something different. This is not okay."

Initially Manna House provided families with fresh meat and produce.

"They just come through the line and choose what they can eat. So they had a heart procedure, they're diabetic or maybe they're on chemo and can only eat certain foods. We want them to take the type of food that they're supposed to eat and be healthy and happy."

The idea for the addition of the sandwich and hot food line came after a mother asked if there was something her child could eat right now since they had not had a full meal in two days. Fluhler gave the young boy a sandwich she had made for her own son.

"The boy just shoved the whole thing in his mouth. And I've never seen a child eat like that."

Fluhler realized meals-to-go could serve many more.

"A lot of elderly people have been to treatment all day, they don't feel like cooking. They don't even come through and get groceries, they just want a hot meal to eat that night. They're too tired to fix something."

Recipients can also get toiletries from soap to tampons. The expansion over the years now includes seven hubs and a mobile kitchen that serves outlying areas.

"We don't want anybody to go hungry. So when someone gives me a report of a neighborhood where there's a food desert, where a grocery store closed, or a tornado took out a market, that's a target area for us."

While Manna House relies heavily on donations from the community, Fluhler's tenacity took it a step further a few years ago when she thought…why not grow our own vegetables?

Field of Greens
"You can buy great big cucumbers and tomatoes and cut the blemish out, but with Grade B lettuce, even your rabbit doesn't want to eat it," says Fluhler.

She and her volunteer team serve up 3000 salads a week, but quality lettuce was difficult to find. Store-bought lettuce doesn't often stay fresh even in the fridge. Also, ongoing concerns with lettuce safety worried Fluhler.

"We were looking for a more economical way to get lettuce so that we could have a way to feed people safely at an affordable price. A garden would allow us to grow a head of lettuce for pennies on the dollar."

With the help of volunteers and a generous landlord, Fluhler found the perfect space for the Manna House hydroponic garden in an industrial park. For two years, volunteers repurposed the 15,000-square-foot building while also researching hydroponic gardening.

They found a grower who patented a styrofoam planter shaped like big ice cream cones. The planters are arranged into a five-foot funnel and stacked so that none of them sits directly above or below each other. Peek inside the planter and there is a very important growing material missing…dirt. Instead two different minerals are used: perlite and vermiculite.

"It's very lightweight, water travels through it. It doesn't damage the tender little root hairs and lettuce loves it," says Fluhler

Water comes through an intricate and timed sprinkler system that comes up through the planter funnel. The temperature stays at a comfortable 72 degrees and is manned by volunteers seven days a week. Visitors wear personal protection to make sure outside contaminants and even things like bugs don't invade the crop.

Just above the planters sits the most expensive part of the operation – $345,000 in LED red and blue lighting that comes on late evening until early morning. Fluhler was concerned about the cost of running 1,300 LED electric lamps until she learned about TVA EnergyRight's incentive program offered through the local power company, Joe Wheeler EMC.

"We spend a lot of time and effort on economic development in our area and the two counties that we serve," says Michael Corneliuson, Joe Wheeler EMC Director of Communications. "And on top of that they're doing really great work for a community that really needs it."

TVA EnergyRight Senior Program Manager Jason Snyder said Fluhler's greenhouse fit in with EnergyRight's strategic plan to promote new technologies in the Valley. EnergyRight and Joe Wheeler were able to offer Fluhler $119,000 in incentives.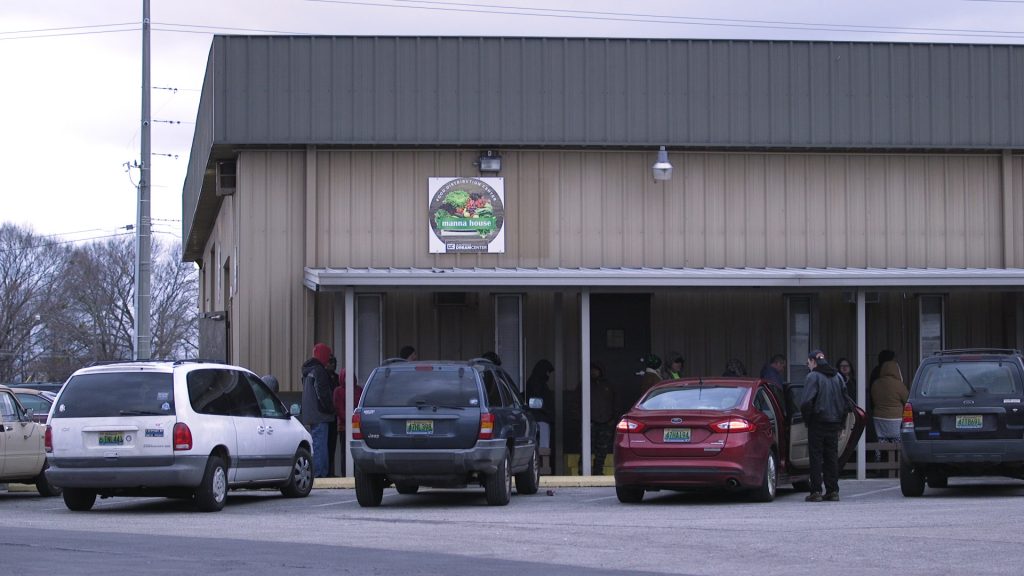 "The coolest thing about the way they use electricity is that you kind of control what time of day the sun comes up for these plants," says Snyder. "And so as a power company, we're very interested in making sure that in the summertime that we could take some load off the grid when all the air conditioners are running in the heat of summer."

Fluhler and the volunteers donate the lettuce back to Manna House and other ministries and non-profits each month. The fresh picked lettuce has a long shelf life – lasting a couple months with proper refrigeration. From what is left, they sell about half to local caterers and restaurants. Proceeds from the lettuce sales are used to buy shelf-stable groceries and other basic necessities, which supplement the fresh salads they provide for those in need. This particular garden is called Field of Greens. Fluhler hopes to grow other vegetables with plans to give each garden a unique name to help denote the product and location.

"I love it. It's my passion," says Fluhler. "That's why I work the insane hours I work. I can't stand the thought of one child, one family going hungry."

If you're interested in volunteer opportunities or need assistance, Manna House is open Mondays, Wednesday, and Thursdays from 3:30 p.m. – 6:30 p.m. Manna House falls under the umbrella of the Huntsville Dream Center along with other programs. If would like to tour or volunteer at the garden, email fran@mymannahouse.com